Seventh Stop


Taoyuan, Formosa
May 5, 2000
Master Ching Hai is Back!
From the newspapers, TV broadcasts, and numerous posters at MTR train stations, on buses and along the highways, Formosan people were aware of the news that Supreme Master Ching Hai, who had been absent for quite some time, would soon return and give a lecture. They spread the word to each other: "Master Ching Hai is back!" Enquiring phone calls bombarded our contact offices non-stop. The lecture was scheduled to start at seven in the evening, but eager people coming from all over Formosa began to pour in from early in the morning. The Giant Egg Stadium in Taoyuan (nickname of the Taoyuan Indoor Stadium) was boisterous.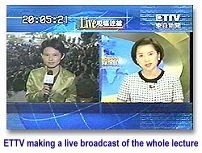 Before the lecture, the major media reported the news of Master's lecture and that the legal problem of the Miaoli Hsihu Center had been formally solved. The ETTV covered the whole lecture that day and broadcast it live to Formosa and Northern America.
The zealous attitude of fellow practitioners all over Formosa voluntarily involved in preparing the lecture touched every person who observed it. A fellow practitioner from the United States said, "Words cannot fully describe the loving care that Formosan disciples paid to the countless details of this lecture. 'Divine' is truly the best choice of words."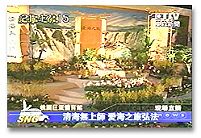 The Giant Egg at Taoyuan is a huge indoor stadium with a seating capacity of twenty thousand. Fellow practitioners took perfect care of each elaborate detail. After the decoration, the lecture stage was transformed into a fairyland found only in Chinese myths, with a waterfall in the background, ethereal clouds above the stage, and orchids, green grass and trees all around. There were two gigantic TV walls in the lecture hall, so that the audience could see Master clearly.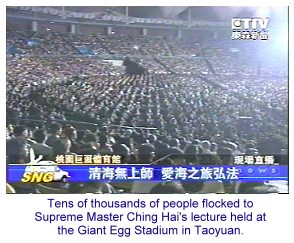 The crowd, young and old, began pouring into the hall at four o'clock. They roamed around to enjoy the display of Celestial Clothes, Celestial Jewelry, Master's paintings and publications, or sat in the stadium to listen to Chinese music performances and choral singing. By seven, not only the original seats and the several thousand added seats were filled, even the passageways were fully packed with people. In the corridors outside, there were lots of people sitting there watching the live broadcast from television sets or huge projection screens prepared for them. Another crowded place was the counter for serving people who wanted to take the initiation or learn the Convenient Method. The intense longing of these Truth aspirants was clearly discernible.
Beginning at seven o'clock, there were experience reports from fellow initiates, a Chinese music performance and choral singing. Everyone was eagerly waiting as Master appeared, wearing a white outfit decorated with colorful floral patterns. She looked like a gorgeous summer flower amid the zealous crowd. Since She had not seen the Formosan people for a very long time, She immediately felt their intense emotion of missing Her, and so, upon entering the stadium, She circulated around the venue, greeting everyone in every corner. All the audience rose to their feet and waved to Master, and of course tried their best to get a handshake with Her.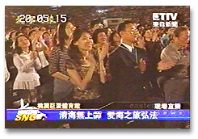 Master began the lecture by leading the whole audience in prayer with eyes closed, for peace on both sides of the Formosan Strait and to the world. After that, Master delivered a brilliant elaboration on "listening inwardly to our self-nature" as mentioned in the Buddhist scripture. Master asked us, why they said "listen inwardly", and not "look inwardly", "touch inwardly" or "feel inwardly"? It is because it is really possible to listen to our true Self. They say "listen", because there are heavenly music, Buddhist sutras and heavenly teachings within. The inner, heavenly melody is as beautiful as music but there is no need for any musical instruments. We do not listen with our hearing faculty. The self-nature is not our characteristic or personality. It is free and easy, encompassing wisdom, nobility, greatness and the whole universe.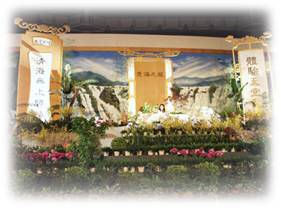 In Her usual humorous self, Master elaborated in simple language on what the Divine Realm is, and Her speech was greeted frequently by loud applause. She said, in the Bible it is said that, seek you first the Kingdom of God, and then everything shall be added unto you. Sakyamuni Buddha also said that, when we have found our Buddha Nature, even our life as a human would be happier and more successful, and more abundant in material aspects. After finding our Buddha Nature, we will become more comfortable and happier, because upon finding our true Self, everything will be illuminated. All our previously forgotten talents, our dormant wisdom, and our overlooked capabilities will develop with our Buddha Nature. We become a different person, because from that moment onward, we are no longer human; we are not human in the first place. Only after we have entered this body do we call ourselves humans. So who are we before we enter this body? Also, who will we be after we have exited and departed from this body?
If the Buddhist scriptures say that all sentient beings have the Buddha Nature, then why are we not aware of It? It is because the illusions of this world are really absorbing, therefore we absolutely cannot remember who we are, we forget about our homeland in Heaven, and we forget about the Buddha Land. However, it is also very simple if we choose to remember. It is as easy as turning the palm. It is simple but also not simple. It is not simple because we are used to looking outside, so it is difficult for us to believe that we are the Buddha. We might have heard about heaven, Buddha Land, and that the Buddha is in the heart or God is within us. However, hearing it is one thing; the next day, we are still busy living the life of an ordinary human. When we die, without a guide to lead us, we won't know where to go, and our soul will be in agony.
If all of us would have found the Heavenly Kingdom within, this world would have become heaven long ago. The Zen doctrines say that only a strand of hair separates Heaven and earth. We originally came from Heaven, so we only have to revert our attention and listen inwardly to our self-nature to find Heaven. We come to this world for the purpose of elevating the universe, but we have indulged in the pleasures here too long and forget to go home.
In the middle of Her lecture, Master said that those who wanted to learn the Quan Yin Method might go outside to register their names. There was a lot of movement within the venue, and many people went to the registration counters. More than a thousand people learned the Convenient Method or received the initiation.
---